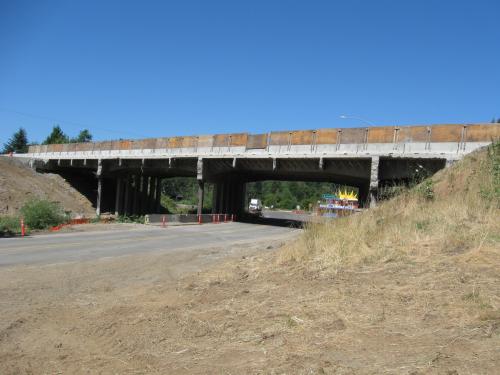 Bear Creek Bridge Demolition
Project Details:
Owner: Oregon Department of Transportation
Contractor: Slayden Construction Group
Project Location: Curtin, Oregon
Engineering Service: Construction Support Engineering
Key Staff:
Alex Dunn

Project Summary:
McGee Engineering designed a temporary support system to support the Bear Creek Bridge on Interstate 5 near Curtin, Oregon during staged demolition in 2009. Portions of the existing bridge were removed to allow partial construction of a new bridge while maintaining interstate traffic flow. The temporary support system included steel posts to support each cap beam, overhang brackets to support the bridge deck, and a containment system to protect Bear Creek from demolition debris.
Project Gallery:
Click on an image to see it larger