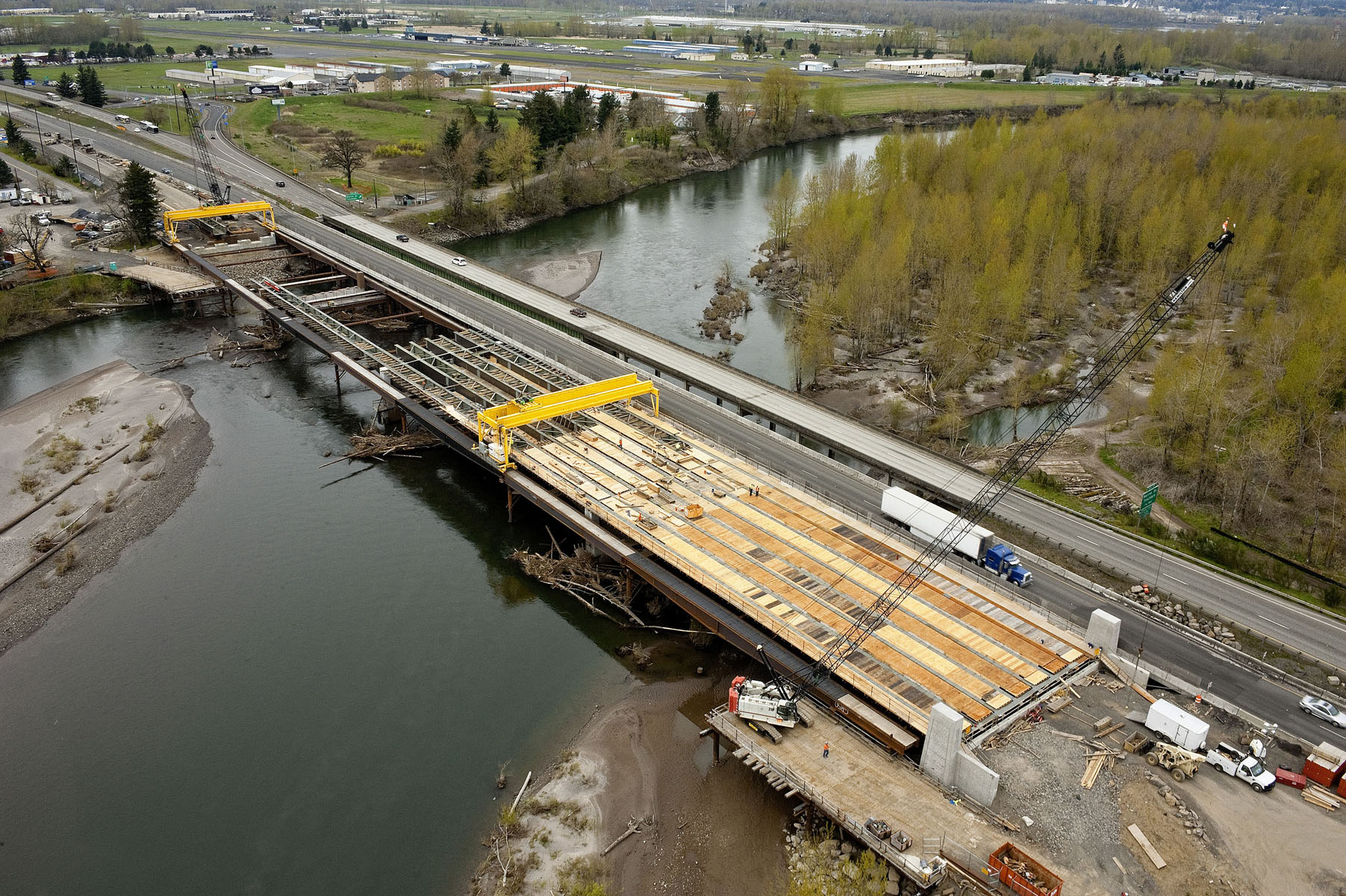 Bridge, Structural, and Construction Support Engineering
McGee Engineering has been providing design services throughout the Northwest since 1984.
Company Principles
Safety
Safety is paramount to our operations, and we work to ensure everyone goes home safe. This principle extends from pre-construction site visits through construction and the structure's long-term operation.
Communication
Projects involve multiple stakeholders and design turning points. Our objective is to provide clear, concise technical documentation to ensure a project's success at each phase. 
Efficiency
To promote constructability and accelerated project schedules, design simplicity, and efficiency is a core component in our final products.
Innovation
With diverse professional backgrounds, our office has the expertise and creativity to find innovative solutions that improve the constructability and budget of each project.
Practicality
Through site visits, contractor involvement, and putting "boots on the ground", our designs focus on ensuring that the final product is a practical solution that meets each client's objectives.
What our customers are saying:
It's fair to say that I have become a bit of a "Dave Morris groupie". What keeps me loyal is his attention to detail when appropriate, his wisdom of knowing when something really isn't a big deal, and not therefore making it one, and his "get'r done" attitude. We have asked Dave to help us with a wide variety of projects that in which he, and his team, have approached all with a willingness to both analyze and solve the problems at hand as well as allowing my office to dip into his sand box to accommodate my penchant for exposing structure and celebrating connections. He's the real deal.
Eric Hall, AIA
Eric Hall Architects, Inc.
McGee Engineering is very easy to work with, they do a great job of understanding constructability and providing timely engineering for a wide range of applications. They are our go to engineers for all of our projects.
Joey Walczak
Farline Bridge, Inc.
McGee Engineering has worked with Starker Forests for over fifteen years to help us find solutions to our forest road/stream crossing structures. They are very responsive and always deliver quality engineering work in a cost-effective way. There is no doubt why many forest landowners in Oregon choose McGee Engineering to perform the engineering work for their projects.
Jennifer Beathe
Starker Forests, Inc.
Contact us
For more information about our services or projects, contact us via phone or the link below, or feel free to stop by our Corvallis office. We look forward to working with you on your next project.
McGee Engineering Office:
804 D NW Buchanan Ave.
Corvallis, OR 97330
Office Hours:
Monday-Friday
7:30 a.m. – 4:30 p.m.
Mailing Address:
P.O. Box 1067
Corvallis, OR 97339
Phone: 541-757-1270
Fax: 541-758-6585