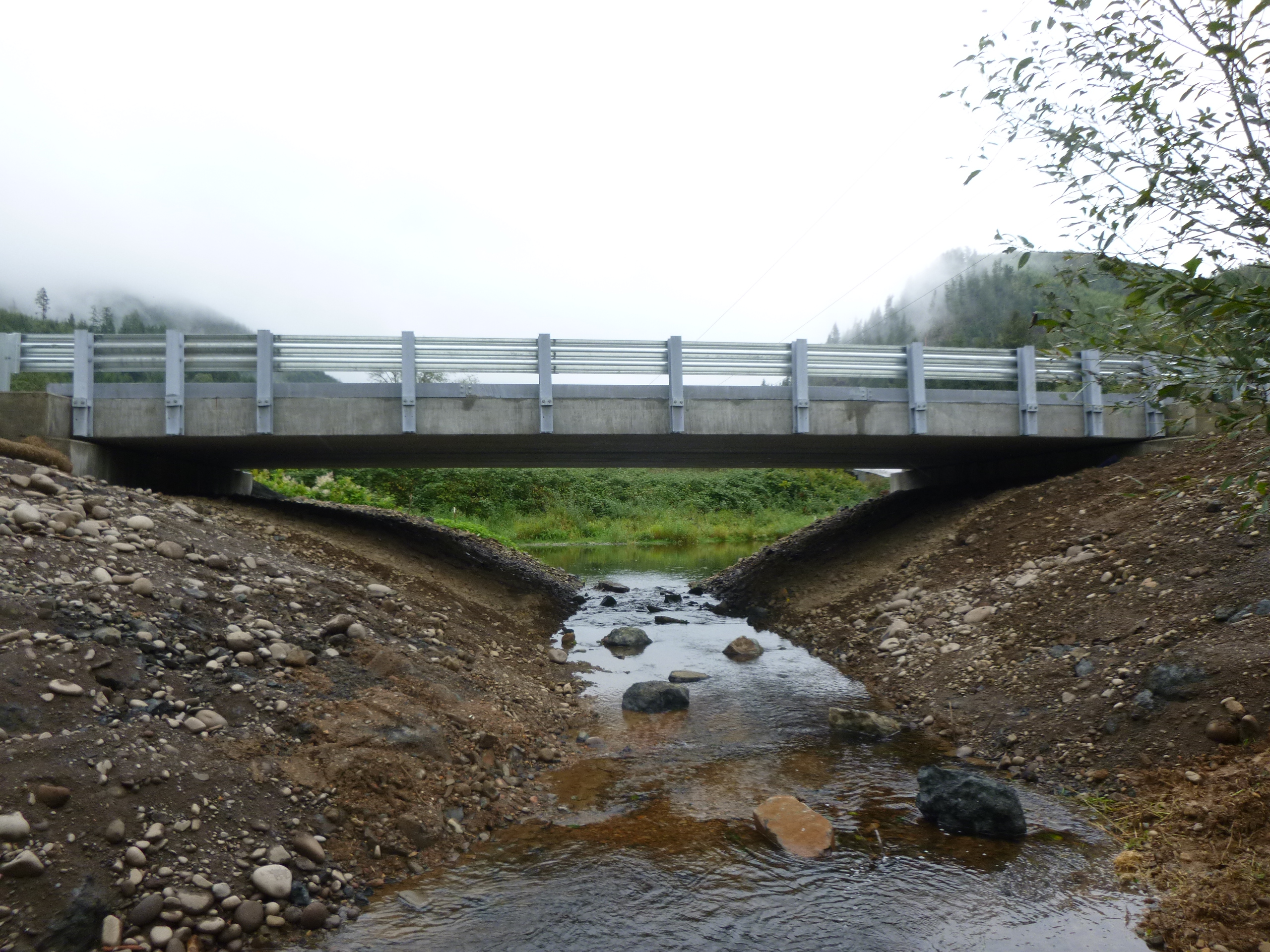 Peterson Creek Culvert Replacement
Project Details:
Owner: Tillamook County Public Works
Contractor: Farline Bridge, Inc.
Project Location: Garibaldi, Oregon
Engineering Service: Bridge Engineering, Bridge Inspection and Load Rating, Construction Support Engineering
Key Staff:
Alex Dunn
Anna Vesper
Dennis McGee

Project Summary:
McGee Engineering provided roadway and structure design for a single span prestressed concrete bridge to replace an existing fish barrier culvert as a value engineering venture with Farline Bridge, Inc. This project was located on a two-lane road with heavy agricultural and logging traffic. A critical component to the project was to provide a detour alignment and structure capable that permitted two-lanes of detour access during construction given the heavy industrial traffic needs. Due to the crossing's proximity to the Miami River, the hydraulics and freeboard to flood conditions were also important design considerations.
McGee proposed the concept of realigning Miami-Foley Road through the crossing to provide enhanced detour and construction access while also improving the final horizontal geometry of the road. Through the value engineering of this project, McGee was also able to increase the span and hydraulic freeboard at the crossing and revise erosion control, work area isolation, and traffic control details to better fit the construction needs and site conditions.
This project involved extensive communication efforts between various stakeholders to produce a successful project. Some of the key stakeholders included: Tillamook Estuaries Partnership, Tillamook County Works, Farline Bridge Inc., surrounding landowners, original contract designer, and surveying and geotechnical consultants. McGee produced construction plans that balanced the needs of all the stakeholders on this project while remaining within the confines of previously granted permits and still creating cost efficiencies for the project.
As part of the value engineering, McGee also worked with Farline to provide construction support which included a two-lane detour bridge, shoring, and other incidental construction assistance. This allowed for greater design confidence in adjusting the final road alignment as design staff could work iteratively to find the best balance between detour access geometry and final structure requirements.
To view more information about this Salmon SuperHWY project you can also visit their webpage at: http://www.salmonsuperhwy.org/peterson-creek
Project Gallery:
Click on an image to see it larger