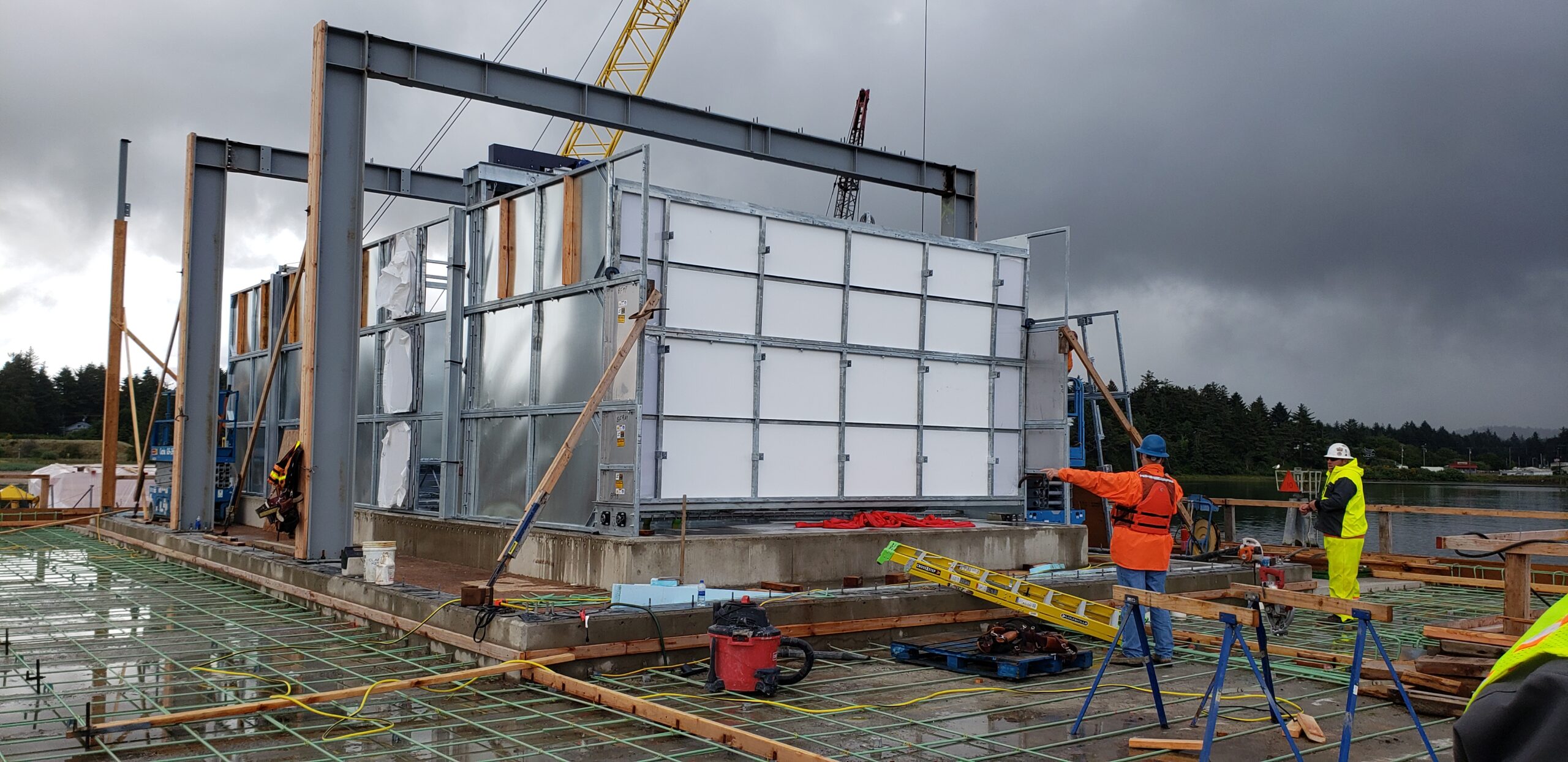 Port of Charleston Ice Dock
Project Details:
Owner: Port of Charleston
Contractor: West Coast Contractors
Architect: Eric Hall Architects
Project Location: Charleston, Oregon
Engineering Service: Marine Structure Engineering, Structural Engineering
Key Staff:
Alex Dunn
Dave Morris
Dan Herford
Nick Swanson
Anna Vesper

Project Summary:
Most new buildings are the result of months or years of thinking about why the Owner needs a new building, but sometimes you find out overnight that you need a new building. When the Ice Plant at the Port of Charleston burned down the week before Christmas in 2019 they knew they needed a new building right away. Over the next few weeks, the Port put together a Contractor/Architect/Engineer team to attack the design and construction of this very special structure. McGee Engineering was asked to do the structural design of the dock and the Icehouse.
McGee was able to bring to the table experience in dock inspection and construction, steel pile design, precast concrete decks and caps, insulated buildings and support of special equipment resisting extreme wind and seismic loads. Having long term relationships with West Coast Contractors and Eric Hall Architects helped with the close communication required on a fast track project like this.
Early in the project, the COVID-19 crisis hit. Normally the precast supplier would design and build the concrete dock elements based on provided loads. With the staff issues brought on by the virus, the supplier was not going to be able to do this design and the project would be delayed. Because McGee had engineers proficient and available to do this work, we were able to pull staff from other projects to absorb this additional design work and keep the job moving.
The Icehouse includes a first floor that houses an ice bin designed for 170 ton of ice storage on a concrete pedestal. The details for the ice room had to not only be structurally strong, but also insulated and vapor resistant. We worked with the Architect, Refrigeration Consultant and Contractor to provide details that met these requirements. The second floor supports the icemaking equipment including condensers and compressors that are mounted inside and outside the building. Steel framing and anchorage detailing was provided to support this equipment.
Project Gallery:
Click on an image to see it larger