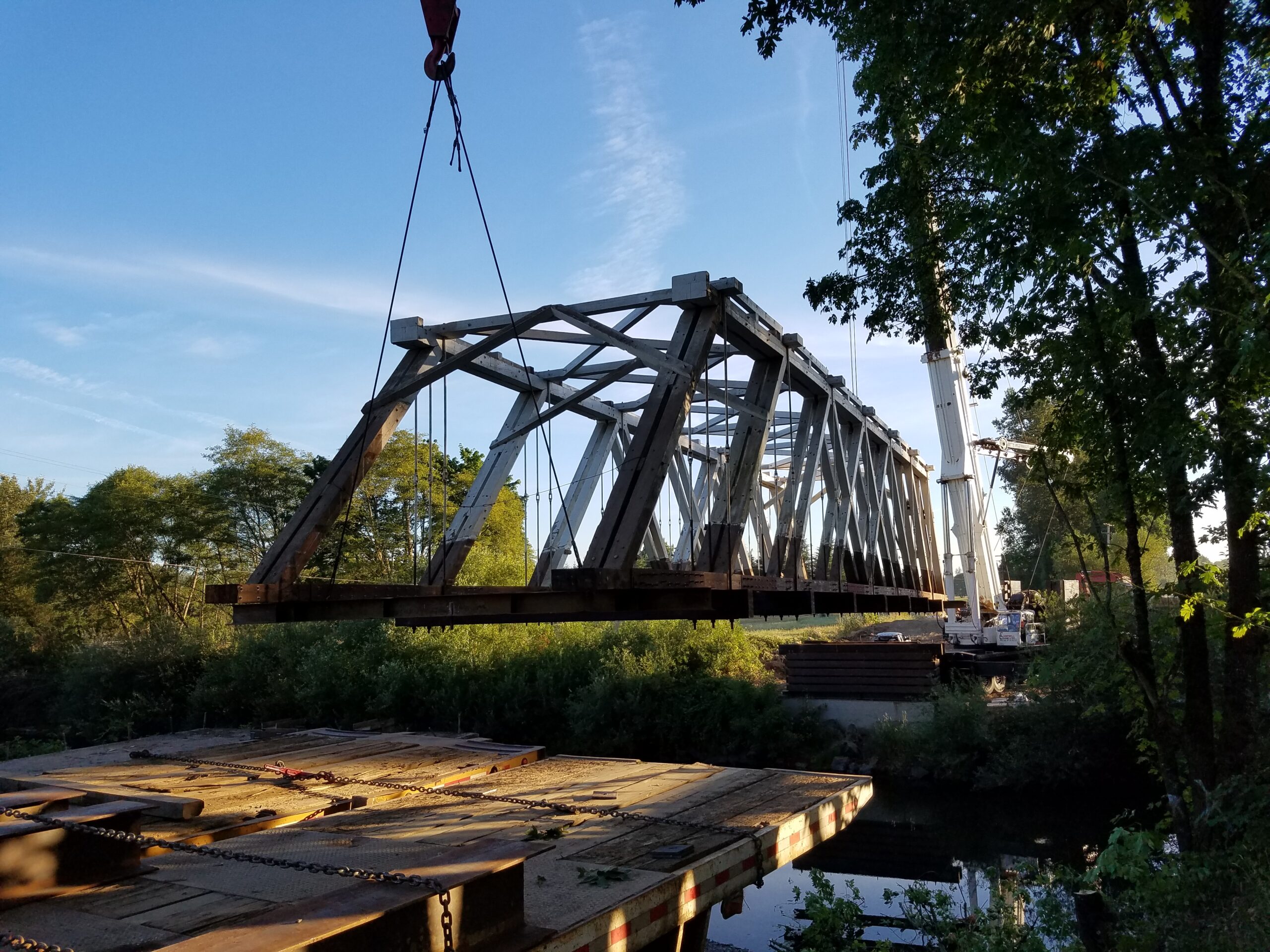 Gilkey Covered Bridge over Thomas Creek
Project Details:
Owner: Linn County
Contractor: Delta Sand & Gravel Co. (Construction)
Project Location: Scio, Oregon
Engineering Service: Construction Support Engineering
Key Staff:
Bridger Johnson

Project Summary:
This project included rehabilitating the existing timber covered bridge as well as constructing new approach spans at each end of the truss. Delta Construction and Oregon Woods hired McGee Engineering to provide construction support services.
Because of the level of decay found in the existing truss members the usual approach of shoring the bridge and replacing the necessary members in place was not feasible. It was decided that the best way to complete the project was to lift the 126' truss from the piers and relocate it to a staging area nearby. This allowed for the whole truss to be shored from the ground and members could be removed and replaced as needed.
Prior to moving the truss, the entire covered bridge "house" had to be removed to reduce the truss weight to 100,000 pounds. This was the limit that could safely be picked at the needed radius. McGee Engineering designed a containment and access structure that hung from the bridge and allowed all roofing and siding materials to be removed without debris entering Thomas Creek below.
Once the house had been two cranes were required for the picking operation; a 500-ton hydraulic crane from Ness Campbell Crane of Portland, Oregon and Delta's 140-ton lattice boom crane. Initially each crane picked the one end of the truss from the north and south banks. It was then passed toward the 140-ton crane on the south bank and the south end of the truss was then set on a specially prepared low-boy tractor trailer and released from the 140-ton crane. The truck then drove forward while the 500-ton crane boomed down until the north end of the truss was within radius of the 140-ton crane. The truss was then passed and the truck continued to drive forward while the 140-ton crane rotated and then set the south end of the truss on a pair of side-by-side flatbed trailers that had been prepared for the purpose. Once the truss was secured to the trailers it was driven approximately 100 yards down the road to a staging area where the rehabilitation work could take place.
McGee Engineering provided a design for the lifting assembly and hauling beams to support the truss while on the truck and trailers. We also designed a jacking system that allowed the truss to be lifted from the truck without further use of the cranes. Additional support engineering included the design of a temporary work bridge to allow the 140-ton crane to set up within it's operating radius when picking the truss.
Project Gallery:
Click on an image to see it larger