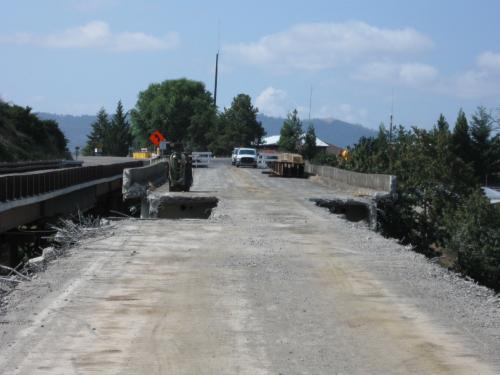 Brown Bridge Demolition
Project Details:
Owner: Douglas County
Contractor: Concrete Enterprises
Project Location: Roseburg, Oregon
Engineering Service: Construction Support Engineering
Key Staff:
Alex Dunn

Project Summary:
McGee Engineering developed a bridge demolition plan for the Brown Bridge which was being demolished near Roseburg, Oregon in 2009. The existing bridge was a 3-span (110′ – 140′ – 100′), 3-cell, mild reinforced cast-in-place concrete box beam bridge with four 65′ long prestressed concrete multi-beam approach spans. Schedule constraints presented unique challenges on this project; much of the demolition needed to occur before the in-water work window, requiring demolition equipment to operate on top of the bridge and containment systems to be supported without in-water impact. Low quality concrete encountered during demolition introduced additional complexity and required temporary shoring before demolition could be completed.
Project Gallery:
Click on an image to see it larger