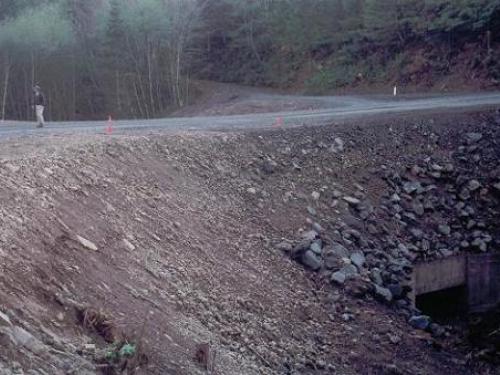 Horseshoe Bend Culvert Replacement
Project Details:
Owner: Stimson Lumber Company
Project Location: Grand Ronde, Oregon
Engineering Service: Bridge Engineering
Key Staff:
Dennis McGee

Project Summary:
Replacing an obsolete culvert under a logging road is a common occurrence, but in some cases is a very challenging project. The Horseshoe Bend site had several problematic constraints; the undersized culvert was blocking fish passage, the road was wide and curved sharply, the fill was deep, and there were intersections adjacent to the culvert. McGee Engineering worked with the landowner to develop a workable solution. The culvert was replaced with a concrete box culvert with a natural stream channel. The excavation and backfill operation was enormous, but because the road was shut down the material was stored on the road bed adjacent to the site, reducing haul cost and speeding construction.
Project Gallery:
Click on an image to see it larger