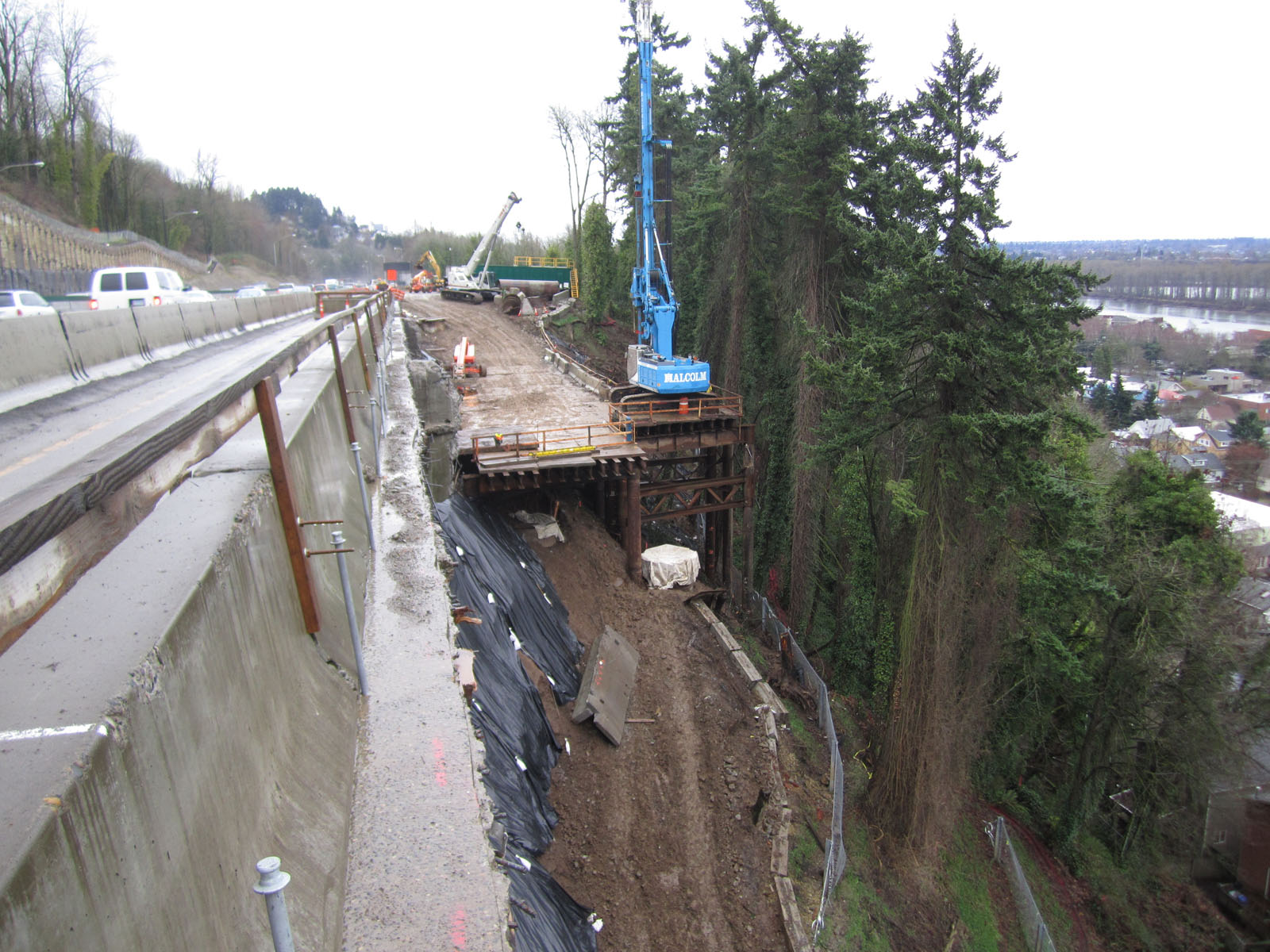 I-5: Iowa St. Viaduct Replacement
Project Details:
Owner: Oregon Department of Transportation
Contractor: Wildish Standard Paving
Project Location: Portland, Oregon
Engineering Service: Construction Support Engineering
Key Staff:
Dennis McGee

Project Summary:
McGee Engineering is currently assisting with the construction engineering for replacing the I-5: Iowa St. Viaduct in Portland, OR. Designs produced to date include a work bridge, demolition containment, temporary shoring, a gantry crane, and false work. Construction just began on phase 3 of 4 of this project.
Phase two construction presented many challenges on this project due to a small construction space and steep hillside. This phase required a work bridge to provide access on the steep hillside and a gantry crane for hoisting the girders into position. The work bridge was designed to be installed prior to demolition to server as a containment platform as well as an access platform. A clamping technique was used to support the gantry crane from the new cast in place concrete cap beams without the use of additional reinforcement or concrete inserts. This technique involved sandwiching the cap beam between two steel beams attached together with pretension threaded rod. Frames were designed on top of these beams to support a trolley beam cantilevered past the face of the new cap beam. A 50ton trolley and hoist ran along the bottom flange of the trolley beam to transfer precast girders from the truck to their final position. The entire framing assembly was designed with bolted connections so that it could be easily moved from bent to bent along the length of the viaduct.
Phase three construction includes replacing the remaining portion of the viaduct. This portion is much wider than the portion in phase two. McGee Engineering will design modifications for the gantry crane so that it can serve this greater width.
Project Gallery:
Click on an image to see it larger