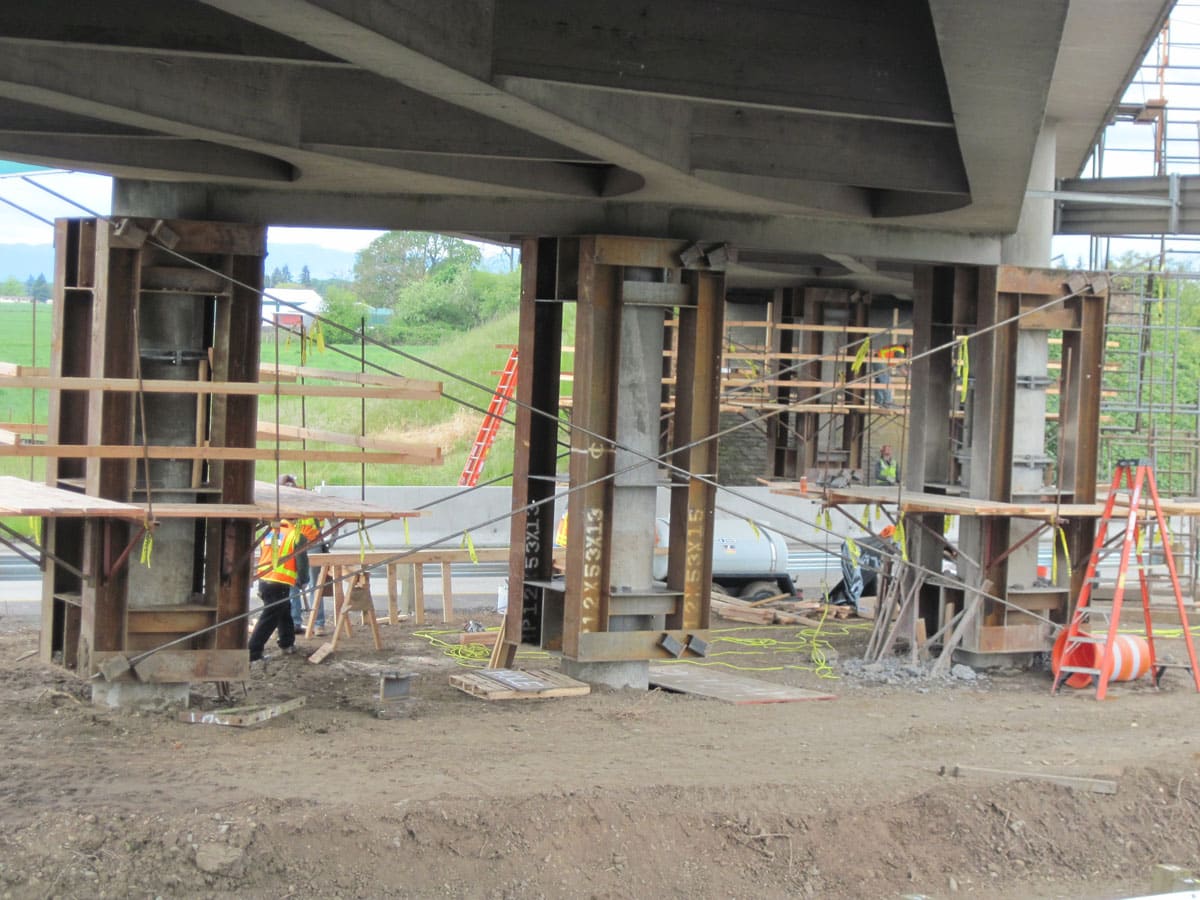 I-5: Vertical Clearance Improvement (Linn/Lane Co.)
Project Details:
Owner: Oregon Department of Transportation
Contractor: Wildish Standard Paving
Project Location: Linn & Lane Counties, Oregon
Engineering Service: Construction Support Engineering
Key Staff:
Bridger Johnson

Project Summary:
The goal of this project was to provide adequate clearance for commercial truck traffic on the I-5 corridor. This involved raising eleven bridges overcrossing the interstate between Salem and Creswell, Oregon to a minimum clearance of 16'-8". Prior to the raising many trucks had to detour off the interstate onto state highways and county roads causing increased traffic and wear on these secondary systems.
The bridges were all raised using a system that could be replicated at each site with minor modifications. Heavy duty hydraulic jacks were installed within each existing column and under each abutment. This method of working within the existing structure minimized the time and cost associated with building a temporary external structure to provide jacking support.
McGee Engineering worked with the contractor to design falsework towers that acted to stabilize the bridge during the jacking operations. These towers clamped around the existing columns above and below the jacking point. After the falsework was in place the columns were partially demolished by cutting tunnels for the hydraulic jacks. Once all the jacks were installed they were hooked up to a manifold so that they were all operated from one location ensuring that the whole bridge would rise at the same rate.
We provided calculations checking the bridges for various loading scenarios, including under traffic while the columns were severed and supported on temporary shoring. Vertical and lateral loading were addressed with a maximum allowable deflection of as little as 1/8".
This project was conducted under a partnering agreement which allowed for direct communication between us and the Engineer of Record. This allowed for a quick turnaround for any questions or problems that arose. The project was completed in one construction season, ahead of ODOT's anticipated schedule.
Project Gallery:
Click on an image to see it larger