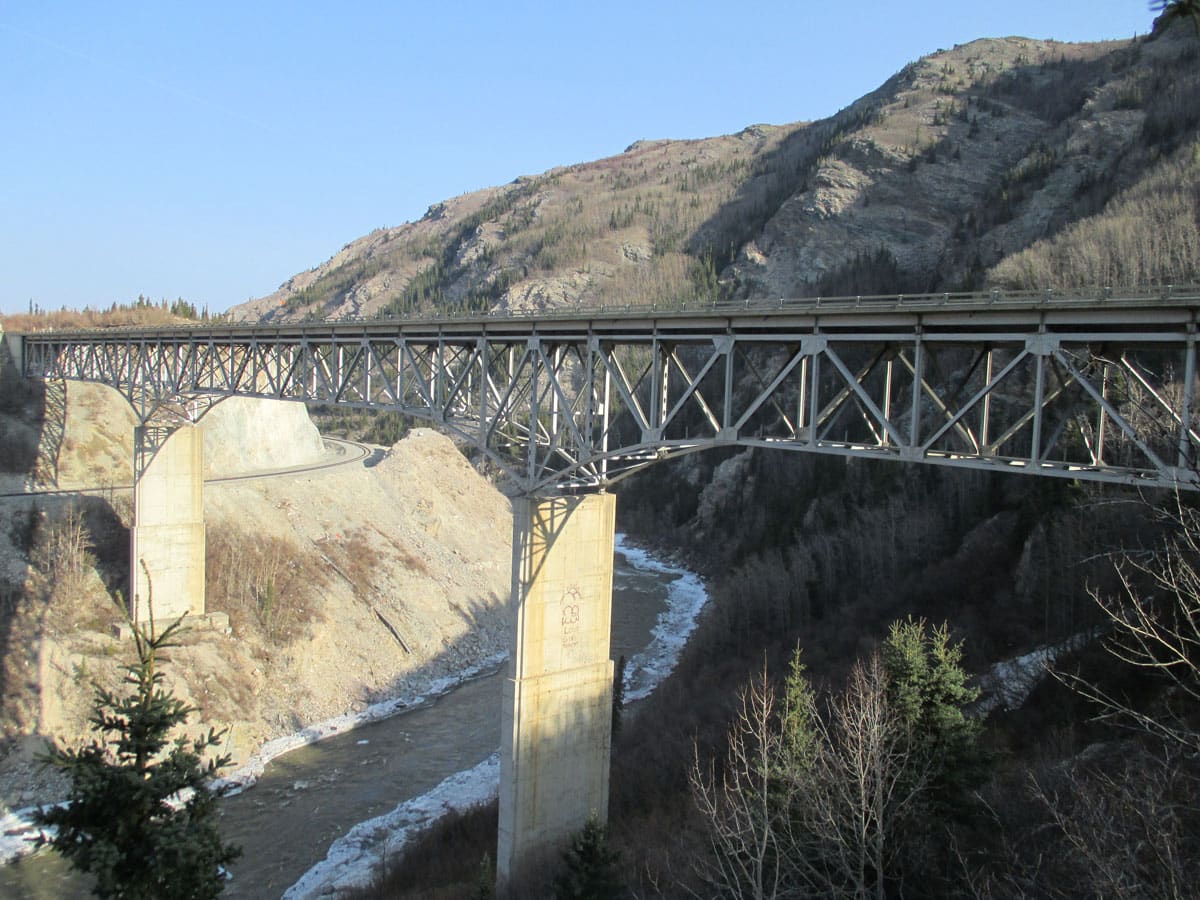 Nenana River Bridge at Moody Bearing Replacement
Project Details:
Owner: Alaska Department of Transportation
Contractor: Hamilton Construction
Project Location: Moody, Alaska
Engineering Service: Construction Support Engineering
Key Staff:
Dennis McGee

Project Summary:
McGee Engineering was hired by Hamilton construction to provide construction engineering services for the bearing replacement of the Nenana River Bridge at Moody in Alaska. This project involved lifting the 810 ft., 3-span steel truss structure at each pier to replace the existing bearings with friction pendulum bearings in an effort to improve seismic response. The bridge was required to remain open to traffic at all times as it is located on highway 3 and is the only route between Fairbanks and Anchorage. This bridge also serves the daily traffic into and out of Denali National Park making it more important to keep open daily.
The existing piers and abutment pedestals of this structure had no additional room to accommodate jacks to lift the truss off of its existing bearings. McGee Engineering designed steel corbels that mounted to the face of the piers/abutments to provide the additional support surface required for the contractors jacks. The steel corbels were designed to carry the full 1.61 million pounds dead load + live load at each pier bearing and 0.5 million pounds dead load + live load at each abutment bearing. This allowed for the bridge to remain open to traffic after it was lifted off the existing bearings and the jack collars locked off. 4 jacks were used to lift the truss at pier and 2 jacks were used the lift the truss at each abutment. Each jack was supported by two steel corbels which were prestressed to the face of the pier/abutment with (4) 1 3/8" diameter 150ksi threaded rod. This prestressing allowed the reaction of the jacks to be transferred through the corbels and into the piers/abutments through a combination of shear and friction. The geometry of the jack support beams on top of the corbels was strategically designed so the jacks sat as close as possible to the interface between the steel corbels and the face of the pier. This allowed the reaction to be transferred as direct shear/friction with little tension on the rods due to eccentric loading.
The bridge was lifted vertically ½" one pier at a time until all of the bearings were replaced. The truss remained in the air for approximately 3 days at each pier and just under 2 weeks at each abutment due to the extensive pedestal rebuilding that was required. A 6.2 magnitude earthquake struck nearby while the bridge was lifted in the air at the north abutment with no resulting damage other than a good scare.
Project Gallery:
Click on an image to see it larger