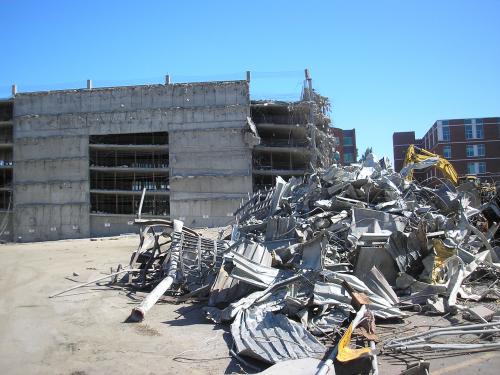 Salem Hospital Parking Garage Demolition
Project Details:
Owner: Salem Hospital
Contractor: Staton Companies
Project Location: Salem, Oregon
Engineering Service: Construction Support Engineering
Key Staff:
Dennis McGee

Project Summary:
McGee Engineering designed a demolition plan in 2007 for the removal of a multistory parking garage at Salem Hospital in Salem, Oregon. The structure was a cast-in-place, post-tensioned concrete building with 7 stories. Although only 8 years old, the structure had to be demolished to make way for new buildings in the hospital complex. A key project parameter was to preserve the glass facade of the data center building that was adjacent to the parking garage. This required that the garage be separated from the data center as the initial step, which involved severing of the longitudinal post-tensioning system. Because the post-tensioning system was crippled, the building was shored throughout to control the demolition process. Seismic monitoring was installed to monitor ground vibration translation to the data center.
Project Gallery:
Click on an image to see it larger