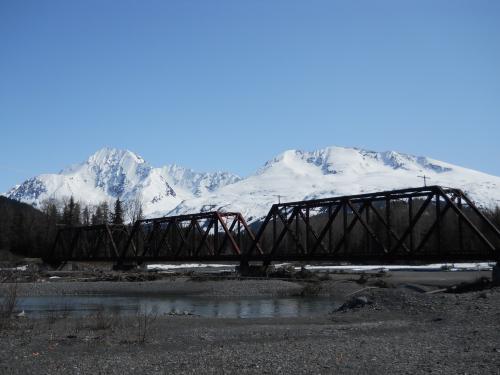 Seward Highway (Trail R., Falls Ck., Ptarmigan Ck.)
Project Details:
Owner: Alaska Department of Transportation
Contractor: Hamilton Construction
Project Location: Alaska
Engineering Service: Construction Support Engineering
Key Staff:
Bridger Johnson

Project Summary:
McGee Engineering provided contractor support design services in the form of a temporary detour bridge, work bridge, cross beam falsework, and erection bracing.
The remote nature of this project required all aspects to be sufficiently designed early in the schedule so that all materials could be shipped from Oregon to Alaska. At Falls Creek the detour bridge used steel girders and a timber deck. At Trail River the work bridge was mated up to an existing detour bridge so that construction traffic could run on both structures. The work bridge was designed to handle a 150 ton crane as well as a drill rig in combination with an oscillator. We performed on site inspection of the falsework, detour bridge, and work bridge.
Project Gallery:
Click on an image to see it larger