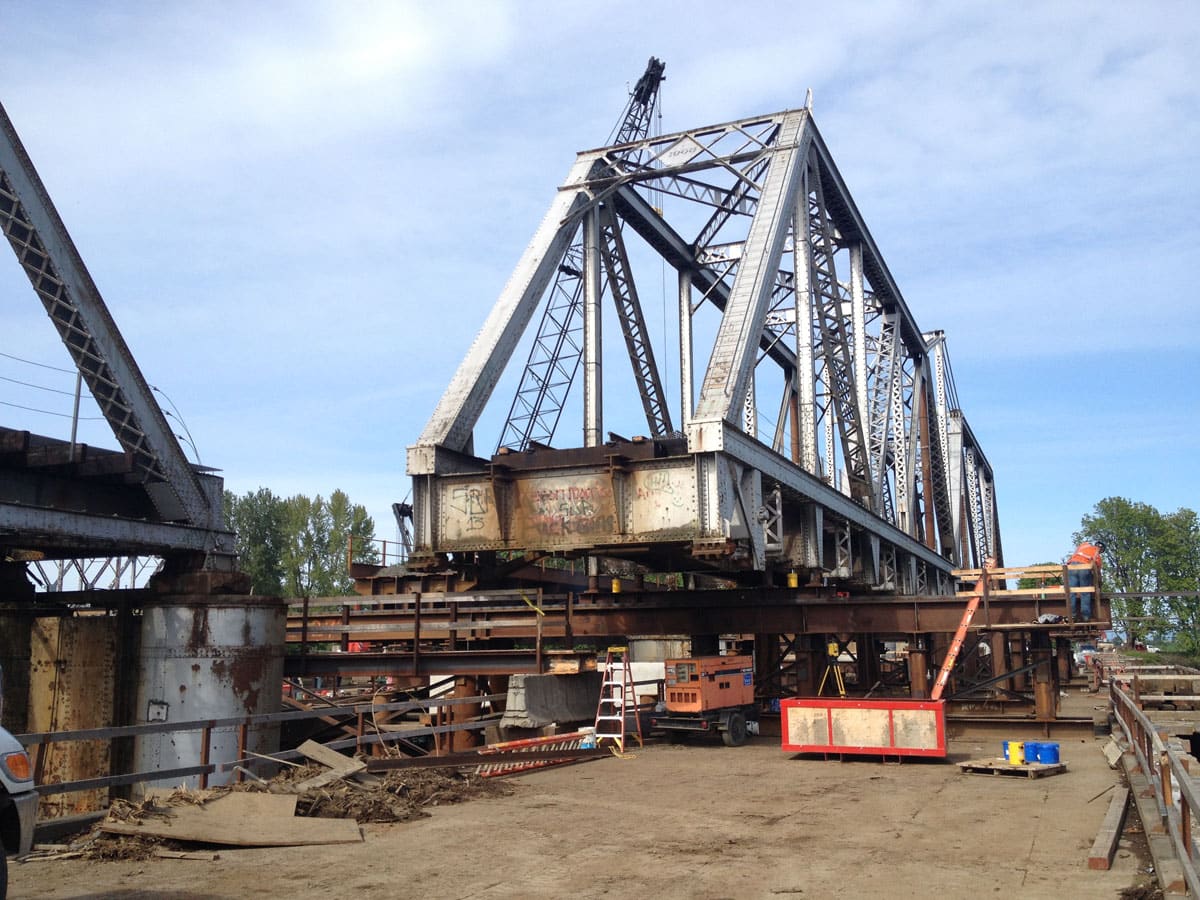 UPRR Harrisburg Truss Replacement
Project Details:
Owner: Union Pacific Railroad
Contractor: Hamilton Construction
Project Location: Harrisburg, Oregon
Engineering Service: Railroad Engineering
Key Staff:
Dennis McGee

Project Summary:
McGee Engineering provided construction engineering for the replacement of the UPRR Harrisburg Trusses over the Willamette River. This project utilized accelerated bridge construction techniques to remove each truss and erect new plate girder spans in less than 24 hrs. Designs completed include 32,000 sq. ft. of work bridge on each side of the bridge, oscillator support platforms, cap beam falsework, and jacking/translation systems for the existing trusses and new spans.
There was a total of 5 truss spans that made up the 800ft crossing across the Willamette River in Harrisburg. Of these spans, 3 consisted of simply supported trusses, and 2 were made up of a swing truss that allowed river traffic to pass in the past. Each truss was removed in a separate closure window and replaced with pre-constructed deep plate girder spans. This was possible by constructing new foundations under the existing trusses and prefabricating the new spans along the side. The new spans were slid into place after each truss was slid out and the existing piers were partially demolished.
Hamilton construction elected to have McGee Engineering fully design a translation system that they could fabricate and operate in-house. This plan was chosen over the use of proprietary translation systems and subcontractors in an effort to reduce project cost. This method also provided the contractor with an easily adaptable translation system for any future project. The translation system design utilizes 4 jacks atop two skid shoes to lift the existing span off its bearings. The skid shoes are made up of steel beams with stainless steel cladding and slide along tracks lined with a dry film Molybdenum lubricant to reduce the coefficient of friction as much as possible. A hollow core jack was used at each end of the truss to pull it out and make way for the new. A similar system was used to pull the new spans into position and lower them onto the new bearing seats.
The largest challenge posed in this accelerated replacement was removal of the existing concrete piers in such a short closure window. The contractor utilized a system that allowed for preboring holes in the piers wile still under rail traffic. A split-spoon jack was then used to shear the top segements of the pier apart from the bottom during the shut down. The top pieces were then able to be lifted out of the way with a crane as soon as the truss is translated away from them. This system allowed the contractor to begin translating the new spans into position almost immediately after the existing truss was removed.
After a truss was removed and replaced, the translations systems leapfroged to the next truss. Each shutdown was able to be completed in 18hrs or less. A timelapse on the first truss translation can be viewed below:
Project Gallery:
Click on an image to see it larger