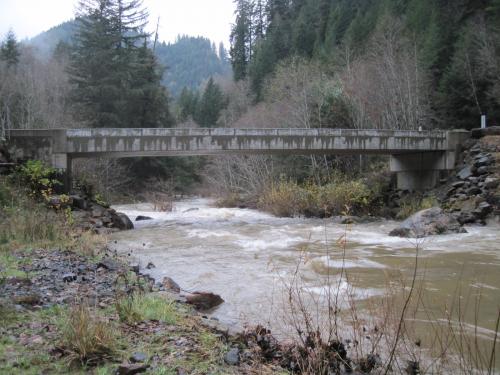 Cedar Creek Bridge Superstructure Replacement
Project Details:
Owner: Weyerhaeuser Company
Contractor: Richardson Construction
Project Location: Coos Bay, Oregon
Engineering Service: Bridge Engineering, Bridge Inspection and Load Rating
Key Staff:
Alex Dunn
Jim Gibeau

Project Summary:
McGee Engineering designed a prestressed concrete slab superstructure to replace a failing glulam girder superstructure in 2012 near Coos Bay, Oregon. The existing glulam superstructure had been damaged by a log and repaired about 20 years prior, and was reaching the end of its service life. Abutment modifications allowed the installation of a wider prestressed slab superstructure with improved rails and wing walls and a shallower section that increases debris clearance.
Project Gallery:
Click on an image to see it larger